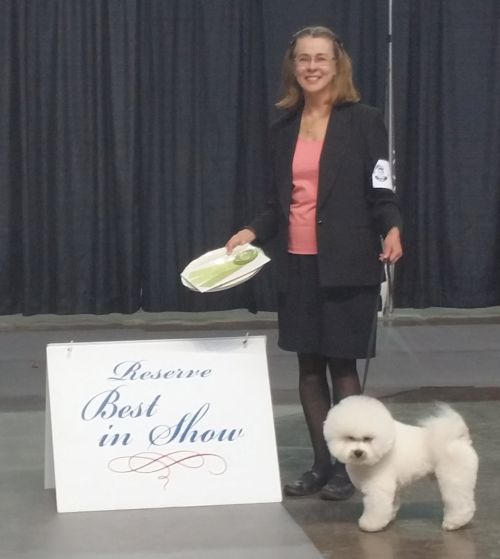 Earlier today, Dash won his biggest dog show prize yet: Reserve Best in Show for the Owner/Handler category at the Heart of the Desert Classic here in Phoenix. I was filming the final judging on my Galaxy Note 4, and when the judge pointed to Carol and Dash for Reserve, I said something awkward and almost dropped the camera.
Dash has done well in dog showing for the past few years. He's already a champion, and is now within four points of becoming a Grand Champion. After that there are Silver, Gold, and Platinum Grand Champion. He's still headstrong and sometimes defiant, and loves to play with kids and other dogs so much that he simply won't stand still in the presence of either.
A quick note on jargon here: "Owner/Handler" is a category defined by the dog's owner (in this case, Carol) being the handler at the show, which simply means running the dog around the ring and presenting it to the judge. Not everyone presents his or her own dogs in shows, for many reasons including lack of time, poor health, or simply a disinclination to run around the country winning ribbons. There are specially trained people who take other people's dogs to shows for a fee. These are called professional handlers. It's possible for owner/handlers to compete against professional handlers (which we have done, and won from time to time) but professional handlers cannot compete in the Owner/Handler category.
The notion of "reserve winner" is harder to explain. It's insurance against the possibility that an award cannot be given because the winning dog is shown to be ineligible for some reason. Another dog got Best in Show for Owner/Handler, but before the award is logged in the AKC's books, the organization checks the winner's eligibility. It's unlikely, but if an irregularity is found, the award goes to a sort of runner-up called the reserve winner. It's pointedly not second place. There is only one "best in show," but in Dash's case, he will inherit the award if the winning dog is disqualified.
It's a really really big deal, especially at a dog show as big as the annual 4-day Heart of the Desert Classic in Phoenix.
As you might imagine, Carol is glowing in the dark. We all had a Cane's Chicken Fingers feast this evening, and everybody got some chicken. We're all dog-tired, and I'm going to shut this thing down now and get some Zs. As will Carol. And, as I strongly suspect, will Dash.