Haven't posted here in awhile, and in truth I have no viable excuses. I've been out of energy a lot, which concerns me, though I suspect it's probably just being 66. Part of it is the depression of knowing that QBit, now 14, is dying of lymphoma. Well, the mobile vet came by today and told us that she can't feel his swollen lymph nodes anymore. QBit was diagnosed last June, and a (different) vet told us he'd be gone in two months. Ten months after his diagnosis, he's still playing dog soccer and still galloping down the main hall when he's on his way to a meal. He's mostly deaf and doesn't see real well, but he can smell a jerky treat on the other side of the house. Part of our success may be do to a product called Apocaps, which encourage apoptosis (i.e., suicide) of cancer cells. Bio isn't my field and I don't know how it works, but it appears to work as designed. It's not cheap, but it's cheaper than doggie chemo and doesn't make him uncomfortable. It's bought us months with him that I suspect we wouldn't have had otherwise. And no, it's not a cure. There will be an end, but the end is not in sight.
Most of the energy deficit, I suspect, comes from the energy expense of trying to keep things straight on our megamonstrous pool, deck, and patio remodel. We have a design. There are blueprints. Subcontractors, however, can be slippery. We've caught them in a couple of booboos before anything irreversible was done. Every time one of the subcontractors comes out, we watch them like hawks, and gently make sure that the crew knows we're watching. If I see something that doesn't align with the blueprint, I go out with my copy and start asking questions. This general approach works very well, though it's time and energy-intensive.
One of the other issues is just getting the work done. Lots was supposed to be done this week. So far, nothing has–and it's Friday. The waterline tile for the pool was put in last Saturday, though the contractor didn't finish the job. That was a week ago. The new pool deck and sidewalk to the back door was poured three or four weeks ago, and coated with the "cool deck" material a week ago Wednesday. It's gorgeous. They did a terrific job. Which is good: The old 1974-vintage deck was hot 70s pink, and badly coated with tan paint of some kind. The paint was flaking off, exposing the original hot pink deck. There were cracks all over, and some of the corners were just coming out in chunks.
Much of the work involving the pool was filling in the deep end. They had to chip off all the plaster, and then brought in 44 tons of roadbed material to take the depth from 9 1/2 feet up to 5. The fill was tamped thoroughly with a jumping jack machine. Then they laid down some rebar, (see below) and used gunite to create a new floor for the deep end that (roughly) aligned with the depth of the shallow end. All that is done now.
It looked horrendous for a long time, especially since a week or more would sometimes go by without any work being done at all. Once the concrete for the deck was poured, it began to look like a swimming pool again, especially after the waterline tile went in.
The new deck is wider for a reason: The older, narrow deck took some corners without a lot of room to maneauver, and all of the Pack except for QBit have missed a turn and gone into the drink. We've always been there to haul them out (they're never in the yard without us, and have a fenced run to potty in) but wet Bichons have to be dried carefully or their hair will turn to felt. So we try to avoid having them get wet. (They're good with that.)
The pool still looks gnarly and will until the plasterers show up. That was supposed to be Wednesday. No deal. So we'll continue to wait. It's certainly a lot less gnarly than it was:
The other part of the project was extending our 10′ X 29′ roofed patio another 12 feet into the yard, with a new Alumawood shade structure over the extension, plus a new built-in barbecue grill. The entire 29′ X 32′ patio has travertine pavers now. The block-and-stucco barbecue shell is done. It will have a matching travertine top, and will be plumbed into the house's natural gas main.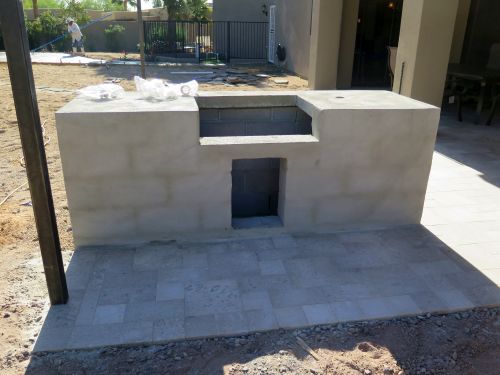 The two posts in the photo are the two corner supports of the Alumawood shade structure. It's going to be beautiful when it's done. We're probably a month out still before the last details are put to bed. Summer is icumen in; it was a very pleasant 72 today, but we've already had a few 95-ish days and lots of 80s. I do wish they'd pick up the pace a little.
I've also spent a lot of energy on Dreamhealer, my work-in-progress. The novel was getting long. Decisions had to be made: By the time a novel is 3/4 done, the protagonist's Dark Moment should have already occurred. I was at 78,000 words and realized that Larry's crisis was another 10,000 words off. I was forced to go back and carve out a whole character arc. It made sense once I realized that young teen James Jefferson Lane Jr. and his little sister Vickie were fun but didn't help the novel move toward its conclusion. Cutting 8,000 words out of a novel always hurts. The pain was alleviated a little when I realized that I could flesh out Jimmy Jeff's arc and make it a complete side-story, tied in with the novel but not an integral part of it. It's also another SKU that I can sell for 99c on Kindle.
Dreamhealer is currently at 73,000 words, and closing in on Larry's Dark Moment. The first draft completion date is supposed to be May 20. I am not a fast writer, granting that my finished first drafts need a lot less polishing than most people's. I know how the novel ends, but am still a little fuzzy on how to get there from here. I vividly remember sitting in my chair in front of The Cunning Blood without a clue as to what should happen next. Then I started tapping keys. Apres moi, le scene. Do that enough, and you finish the novel. That doesn't mean the process doesn't get a little nerve-wracking in spots.
What energy remains I have spent exploring Minds.com and trying to figure out how EOS works. There's something called Everipedia that works over EOS. It sounds a lot more like my 1994 All-Volunteer Virtual Encyclopedia of Absolutely Everything essay than Wikipedia. It's distributed, based on blockchain tech, and has a process for becoming an editor that I still haven't entirely figured out. The whole thing is gnarly as hell, but if that's the future, I'd better stick a finger in and see what knowledge I can lick off. If it's not the future, well, I'll at least have been forced to figure out blockchain.
So bear with me. Lots going on here. Chronic fatigue may simply come from attempting too much, especially now in my midlate 60s. Things progress. We'll see.