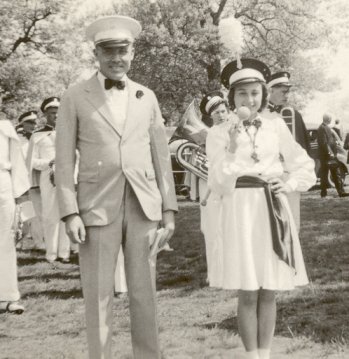 We got back from Wisconsin yesterday, having had a very good time getting soaking wet and eating perhaps a little too much. I had forgotten how pretty that part of the country was, even though my family went there often in the early 1960s. It was where my mother grew up, between the little whistle-stop of Shennington and the larger town of Necedah. (That's her at left, as Necedah High School's drum majorette in 1942, posing with her band teacher.) Carol and I explored the area a little bit while we still lived in Chicago, but that's been thirty years now, and it would be worthwhile to go back and hit Baraboo, Mauston, Mill Bluff State Park, and a number of other places we remember less well than we'd like. We want to return to Perot State Park along the Mississippi, where I proposed to Carol in 1975, as well as nearby Wyalusing. Next summer, fersure.
We're still in the Chicago area (currently in Crystal Lake) but this trip isn't entirely vacation, and I'm pushing hard to get some work done. Today was productive: I finished laying out and proofing the body of Souls in Silicon, the first of two collections I am preparing of my own SF. Souls in Silicon contains all of my published stories pertaining to strong AI, including "Guardian," which was on the final Hugo ballot in 1981, and "Borovsky's Hollow Woman," my 1983 collaboration with Nancy Kress, which originally appeared in Omni. Other stories in the 9-story lineup include "The Steel Sonnets," "Silicon Psalm," "Bathtub Mary," "Marlowe," "STORMY vs. the Tornadoes," and "Sympathy on the Loss of One of Your Legs." The collection will conclude with an excerpt from my 2005 novel, The Cunning Blood.
With the body done and the page count frozen, I can get to work on a cover. I commissioned custom cover art from Richard Bartrop, and just approved his final color concept sketch. By the time Richard is done, I should have a cover to drop the art into, and we'll have us a book. Richard is very well-known in Furry circles, but he's actually a formidable hard SF artist, and the concept, from my story "Guardian," is terrific. Bodies are easy. Covers are hard. My mother was an artist, but I think she left her talents in Wisconsin; neither Gretchen nor I inherited them. I hope to have copies to show around at Worldcon in Denver this August, but that means I had better get to work.