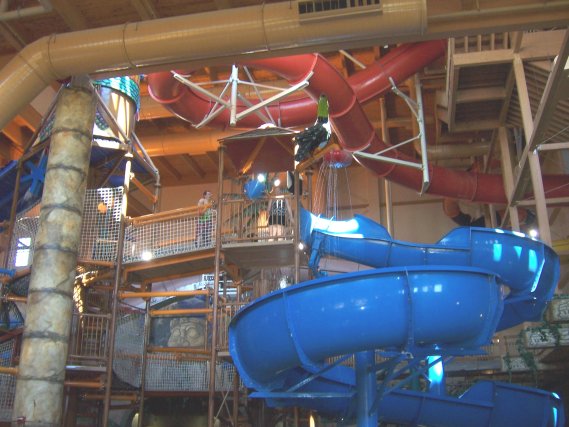 We're at the Chula Vista Resort in the Wisconsin Dells for a short family vacation, and I think I've identified the first significant cultural contribution of the 21st century: the large-scale water park. I'm not talking about a pool with a single slide, or even two slides. I'm talking about a fifteen-acre indoor/outdoor complex with twelve separate water slides, some easily fifty feet high, with coils of people pipes that go outside the building and then come in again, some in several different loops. One slide even has a Men In Black 2 style "flusher" at the end. There is a sort of aquatic roller-coaster-in-a-garden-hose, and a short, simple flume that pretty much drops you vertically for about thirty feet. I looked around, and I boggled—but then I started having fun.
It's a species of fun that simply didn't exist when I was a kid. We were delirious to have a simple swimming pool or even a muddy lake to paddle around in. I think I frst saw a water slide when I was thirty-five. And I have never seen anything even remotely like this. There is constant motion (much of it from incalculable numbers of eight-year-olds) and water pouring, squirting, and spraying everywhere, in every direction at once. Buckets of many sizes, from a gallon or two up to a multihundred something the size of a hot tub, slowly fill while on pivots, and when the buckets fill, they tip over and dump their loads on anyone who happens to be below. There's a zero-depth baby pool, a one-foot deep toddler pool, a four-foot-deep activity pool for preteens, a hot tub for exhausted old guys, and a very interesting thing called a "lazy river," which is a linear pool about two feet deep and eight wide, propelled into slow motion by angled jets in the walls. You grab an inner tube as one drifts by, and just lie on your back and follow the flow around the periphery of the complex. Carol very bravely tried every single water slide in the place, spurred on by our strapping twentysomething nephews and their svelte, althletic girlfriends. I did the bunny slides and the "croc walk," which is a pool across which you go by hanging from a suspended net while stepping on floating faux alligator body sections. I myself was never one for thrill rides, and I deeply admire my beautiful wife for being wiling to shoot through pipes at thirty miles an hour.
One fascinating thing about our Fourth of July day at the water park was how international it all was. We had chairs next to a group of people speaking a Slavic language (Russian? I can't tell) and Carol's mom heard more than one group speaking Polish. A pair of guys were speaking French on the elevator with us, and I know enough German to identify it when I hear it. Lots of Spanish, and possibly Portuguese. Many Asian families were there, including one whom I suspect were Phillipinos speaking Tagalog. A group of young Black folks were in the hot tub with us for awhile, speaking a language that was like nothing I had ever heard. Clearly, the Wisconsin Dells is a global draw, which I found interesting, since when last I looked the Dells were kind of like Las Vegas without hookers. On the other hand, the last time I looked was in 1961, and the really big thrill was riding an Army-surplus amphibious truck on now-defunct Lake Delton. (The Delton vista was a little surreal: acres of mud, sand, and century-old tree stumps where Tommy Bartlett's skiers used to roam.) But it makes sense: The States is a cheap date these days, and all those good people from overseas were throwing cubic meters of money into the local economy.
We spent the evening at a local park, tossing a frisbee around while waiting for a pretty spectacular fireworks display. We saluted the birth of the American idea, which has seen better and worse over the years. We survived the Civil War. We survived the Depression. We will survive $5 gasoline.
The American idea is not over. It has not failed. It has not even fully matured. I'm not, in fact, sure that anyone entirely understands it—but I will celebrate it, for what has been and for what is yet to be, now and forever, amen.