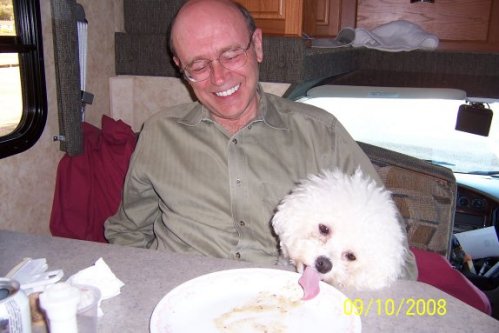 …because that's just what it was. We were eating lunch in the RV yesterday, and I had microwaved a buffalo burger grilled the night before, with a cheese single atop it. After we had finished eating, QBit jumped up on my lap and pretended to be CuddlyDog for a few seconds until he thought I wasn't looking, and then The Tongue came out. Carol quick grabbed her camera and got the moment just right.
We got home a little earlier today from our 6-day wander, refreshed and ready to get back (more or less) to the normal run of things. I spent maybe a little too much time with my nose buried in CSS books, but we did get a few quality hours in down at Mt. Princeton Hot Springs (see my entry for August 17, 2004 for photos; it hasn't changed much) and a few nice light hikes.
And boy, there's nothing like campground Wi-Fi hotspots to make you appreciate residential broadband!