Broadband on the high seas isn't very broad. It also costs a fortune, so I made a conscious decision not to blog in real time about our recent seven-day, much-delayed 34th wedding anniversary cruise. I bought some "Internet minutes" (at 70c each, egad) to flush my spam every couple of days so my primary mailbox wouldn't fill up, and posted a previously written Contra entry partway so it wouldn't look like I'd sailed off the edge of the Earth.
In truth, we stayed well away from the edge of the Earth (besides, they'd just painted the guardrails) and instead sailed from Tampa back to Tampa by way of Key West, Jamaica, Grand Cayman, and Cozumel. The point of the cruise wasn't to go to any of those places in particular so much as to just get the hell out of here, since winter began early again and between my shingles and Carol's pancreas it had been a lousy couple of months for us. Cruise vacations have been cheap lately because of the recession, and Carol got us smoking deal on a larger cabin with its own balcony overlooking the bounding main. The bed was comfortable, the bathroom could be turned around in, and there was a lot less claustrophobia to be had than on our earlier cruise adventures. On the whole, we heartily recommend Holland America cruises, especially if you're over 50. The service is spectacular, the ships squeaky clean and not enormous (1200 people, not 5,000 like some of the newer boats other carriers are fielding) and the food abundantly good, if at times a little too abundant.
The main was bounding quite a bit this cruise, to the extent that both of our snorkel trips (in Grand Cayman and Cozumel) were canceled and refunded by the tour providers. We hit Seven Mile Beach on Grand Cayman instead and slopped around amidst the eight-foot waves near the Royal Palms Beach Club. Disappointed as I was by losing our snorkel trip, I got tossed around enough on the beach by the breakers (including being dragged along the bottom and almost relieved of my trunks) to figure it would have been a short and unsettled outing anyway. (It definitely cleaned out my problematic sinuses, though.) Grand Cayman has no cruise dock so people "tender in" on lifeboats, and the water was so choppy people were falling down while trying to board and disembark. During the school year the median age for cruises like this is probably 70, so falling was a serious issue, and certainly made the disembark/re-embark lines longer.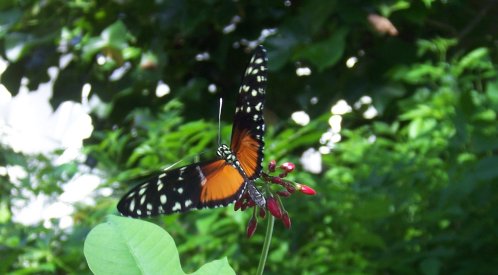 Once you get a block away from shore, Key West is mostly bars, and from the sheer quantity of Mardi Gras beads hanging from the overhead power lines, I'd guess the street parties there are something to see. Key West has feral chickens the way some places have squirrels, and you can buy killer-rich key lime pie slices from street vendors. We visited the Key West Butterfly & Nature Conservatory, where I snapped a great many photos of foliage where butterflies had been sitting only moments before. I'll gladly trade several megapixels for less latency, but pocket camera manufacturers don't seem to be interested.
We met a lot of interesting people from several different countries, including a retired Welsh sea captain and a couple who were celebrating their 70th wedding anniversary. I sure hope I look as good–and more to the point, function as well–as those two when I'm 88! At the first meal in the formal dining room at the ship's stern, I found myself seated next to another writer, Dottie Billington, Ph.D., who wrote her first book at age 50 and exhorted me not to give up before I become a best-selling SFF author.
Carol and I have been on several cruises before and eat carefully, wistfully avoiding the dessert bars and keeping carbs to a minimum generally. As best I can tell, I brought less than four pounds home that I didn't leave with, and intend to lose them before Christmas gets into full roar.
More tomorrow.