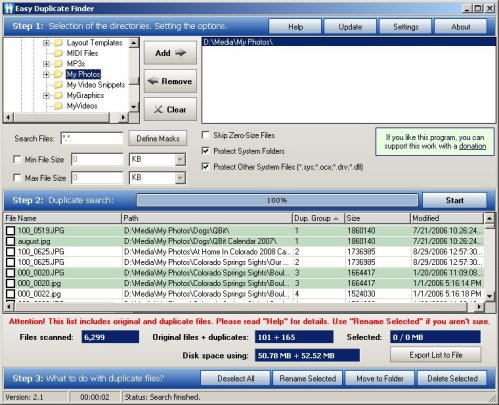 I've used a number of utilities to search for duplicate files under Windows in the past few years, but in doing research for Degunking Essentials I've run across the king of the category: Easy Duplicate Finder. I like it for these reasons:
It's a "portable" or "no-install" app, meaning a single .exe file that can run from anywhere. It does not shotgun itself into fifteen different places on your hard drive, including the Windows Registry. You "uninstall" it by…deleting the file. Damn, what a brilliant notion! Why haven't more programmers thought of that?
In a sense, the UI contains its own documentation. You proceed through the single screen from top to bottom, filling things out in an order that makes sense. It actually says "Step 1:", "Step 2:", and "Step 3:"
It is astonishingly fast, at least in the mode that checks for duplicates using file size and a CRC32 checksum. When I captured the screenshot above (full size image here) it had just scanned 6,300 files in…seven seconds. (I suspect that the alternate algorithm, which performs a byte-by-byte test, would take a little longer.)
It's free. Really and truly free, without ads or spyware or any other gotchas of any species.
In the two hours of testing I put it through, I managed to find two old copies of my mailbase that I had forgotten I had, plus almost two hundred duplicate digital photos. I realized that I had an extra copy of the Hardy Heron .iso (700+ MB right there) a dozen or so duplicate MP3s, plus a substantial number of other things scattered allthehell over the place, which taken together lightened my hard drive by a little over two GB.
It reminded me of a lesson I learned a couple years ago, too: Empty your digital camera when you move pictures over to your PC. Most of the duplicate photos happened this way: I moved photos from the camera to my folder hierarchy without deleting them from the camera, then gave the numeric filenames more descriptive replacements. Alas, the next time I synced the camera, the same files came over again in their original numeric filenames, leaving me with identical file pairs with names like 100_0519.JPG and QbitChewsTennisBall1.jpg.
After the utility locates the dupes, you can select specific files for deletion, renaming, or moving to a catchall folder. You can limit the search to particular file types and file sizes, and define masks for ambiguous filespecs, like QBit*.jpg. Overall, a spectacularly useful utility that has no defects that I can see.
Highly recommended.