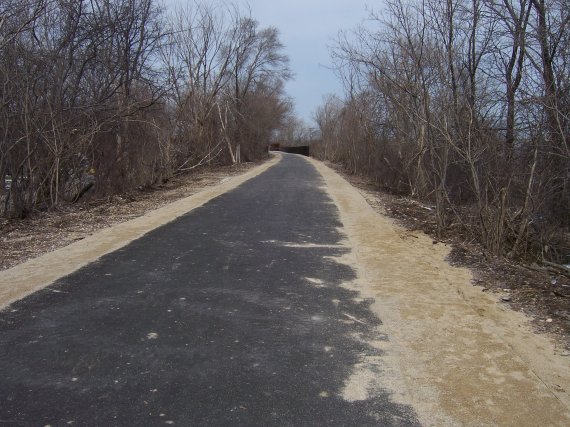 The weather today in Chicago promised to be as good as it gets this trip, so I decided to do a little exploring. I wanted to get some exercise and a little sun on my face, and run down to a neighborhood I hadn't set foot in for almost thirty years: Sauganash, an upscale part of the Northwest Side where my father's parents lived in the 1950s and 1960s. I went past the old house (at the corner of Kedvale and Glenlake), which had not changed at all, though the tree that my grandfather had planted in 1955 was now huge and breaking up the sidewalk. I had lunch at a hot dog place at Devon and Pulaski and parked the car on Pulaski near St. Odisho's Assyrian Catholic Church. I then did something interesting: I walked the old rail line that intersects Pulaski near Granville, southward as far as the Chicago River, roughly at Balmoral. The rails are still there, but by the depth of their rust I'd guess they hadn't seen wheels for a number of years. It was a little weird walking over Peterson on the rail bridge, but I wanted to see if there was any evidence of there having been a commuter rail platform at Peterson. I'm not sure why, but I always thought my grandfather boarded a train for downtown (he worked at First National Bank) on Peterson somewhere. This was clearly not the place. (Gretchen says he boarded at Edgebrook, and she's probably right.) Whatever that line was, it had clearly been freight-only.
Since I was on the right of way, I just kept going. The tracks continued, rusty and weed-choked, as far as I went. Just a block south of Bryn Mawr, a second line merged with it, and I found that the city was in the process of making a walking trail out of the old bed. So I cut north again on the walking trail, passing people and their dogs and a father flying a kite with his preschool son in a schoolyard. The trail is quite new, and in fact the walking bridge over Peterson was not complete yet and was fenced off. (The trail goes north as far as Devon.) So I skidded down the embankment and walked east back to Pulaski along Peterson to my car. It was a nice two-and-a-half mile stride, and when the sun was out it was quite warm.
That accomplished, I drove back west toward Des Plaines, and stopped in Park Ridge to do a little more walking. I wanted to visit Hill's Hobby Shop, and walked there only to find that they have moved to Buffalo Grove. I did, however, snap a shot or two of what is certainly the narrowest storefront in Park Ridge (and perhaps the whole Chicago metro area) at 147 1/2 Vine Avenue (60068) directly across the street from Park Ridge City Hall. I didn't have a tape measure in my pocket, but I'm guessing the whole thing was between four and five feet wide.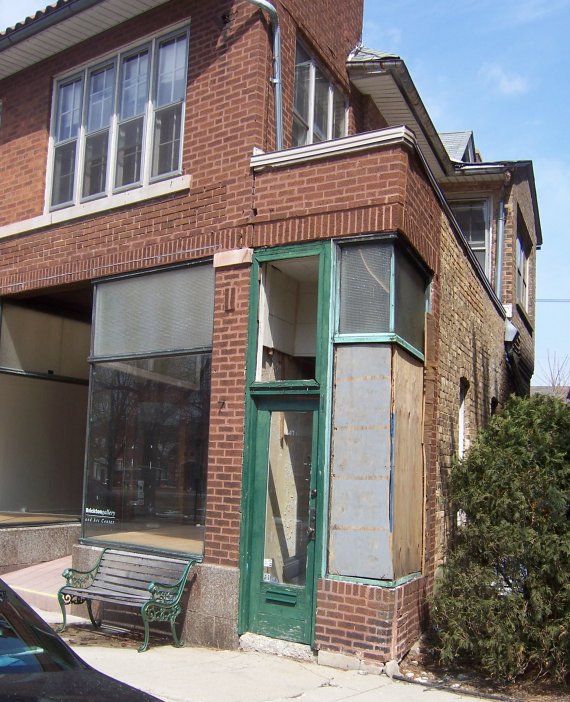 I'd seen it before, and remembered that it had been a knicknack shop a few years ago. Sure enough, googling the address showed it to have been (aptly) The Miniature Gallery, and there was a 2007 business registration sticker on the window. However, the counter and window displays had been ripped out, and it looks like it's being converted to something else, probably a hall to the rear. The art gallery in the rest of the building was also vacant, and the building as a whole was not in terrific shape.
No serious point to be made here, other than you miss some odd and occasionally wonderful things by driving everywhere. Spring's coming—so get out on shank's mare and see some of the weird stuff in your own neighborhood!