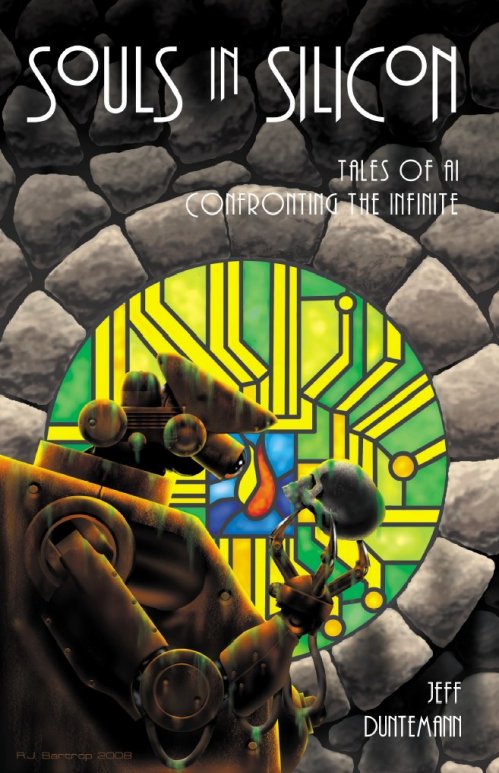 Many things have conspired to slow me down since Worldcon, but I've begun to catch up, and this morning I finally got Souls in Silicon uploaded to Lulu and ready for sale.
The book is a collection of all my published stories (plus a new one) about strong AI. Some may be familiar to you (like "Guardian," which was published in Asimov's in 1980 and appeared on the final Hugo ballot in 1981) but some of it appeared a long time ago in markets that paid real money but were obscure or problematic in various ways. Jan Howard Finder's hardcover anthology Alien Encounters published "Marlowe" in 1982, but the only sales report I ever saw indicated that it had sold 125 copies. Ditto Larry Constantine's Infinite Loop, another hardcover anthology. It put "Bathtub Mary" into print in 1993, but there were shelving issues (bookstores thought it was a computer book because it was published by Miller Freeman) and the only time I ever saw it in stores was next to a pile of C++ tutorials. So it was time to get them all available again, in a single presentable volume that will never go out of print. The cover art is by Richard Bartrop. 188 pp. $11.95 print; $3.99 PDF download. No DRM.
The collection includes:
"The Steel Sonnets" (1975)
"Guardian" (1980)
"Silicon Psalm" (1981)
"Marlowe" (1982)
"Borovsky's Hollow Woman" (with Nancy Kress; 1983)
"STORMY vs. the Tornadoes" (1990)
"Bathtub Mary" (1993)
"Sympathy on the Loss of One of Your Legs" (2008)
…and an excerpt from my nanotech AI novel, The Cunning Blood (2005)
The book is currently available only from Lulu. I'm working on getting it ISBN-ized and converted into all the major ebook formats, and with some luck into Amazon's Kindle bookstore. I'm planning a second collection for the fall, containing all the rest of my published SF and a couple of new items. The title and and contents of that one depend on several decisions I haven't made yet, but I'll keep you posted. As always, reviews or simply blog mentions would be greatly appreciated.