I've been meaning to try software-defined radio (SDR) for a good long while. I had a suspicion that it would require some considerable research, and I was right. However, it wasn't especially difficult or expensive to give it a shot. Amazon offers a kit that consists of an SDR USB dongle, plus some whip antennas and connecting cables. Price? $42.95. I also bought a book by the same outfit that offered the kit: The Hobbyist's Guide to the RTL-SDR. Given that it's 275 8 1/2 x 11  pages of small print, I'll be plowing through it for awhile.
Of course, my first impulse is always to just run the damned thing, and do the research later. Very fortunately, the firm has a "quick start" page online, and by following its instructions (carefully) I got the product running in half an hour. The UI is reasonably well-designed: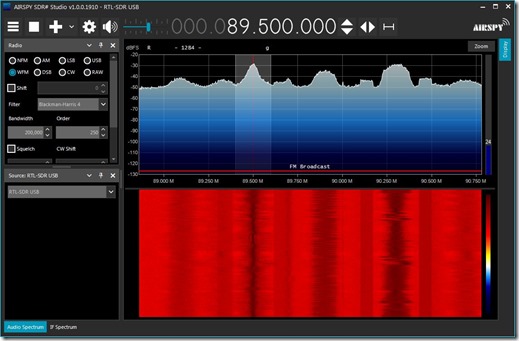 It has the waterfall display and amplitude display that you would expect, plus the ability to detect AM, NBFM, WBFM, CW, USB, LSB, DSB, and RAW. There's a squelch and several ways of selecting the tuner frequency. There are other things that I haven't figured out yet, but that's also to be expected.
The software is a free download (see the Quick Start Guide) with a slightly fussy installation mechanism that runs from a batch file. The dongle has an SMA connector on its end for an antenna. The kit includes a little tabletop photo tripod that can carry an adjustable whip dipole, which I put on the tripod and eyeballed at 100 MHz. Without further ado, my favorite FM classical station, KBAQ on 89.5 MHz, was roaring out of my headphones.
Although the dongle can technically tune from 500 KHz to 1.7 GHz, I found that there's a low-frequency cutoff at 24 MHz. I saw some mumbling in the book about an upconverter, but haven't explored it yet. The implication is that it's part of the dongle but you have to select it as an option somewhere. I'll get to that eventually.
The software installs on Win7 and up. I have a Win10 Intel NUC box that isn't doing anything right now, and the plan is to put it in my workshop, where I can feed the SDR with the discone I have on a mast above the garage. It's currently down in the garage for repairs—one of the cone elements fell off. All the more reason to put it back together and get it up on the mast again.
This isn't supposed to be a review. I need to dig into the doc a lot deeper than I have so far before I can say with any confidence how good it is. It receives broadcast FM just fine. However, like most Arizona recent construction, this is a stucco-over-chickenwire house, which means (roughly) that I'm running the SDR in a so-so Faraday cage.
I see some fun in my near future. I'll keep you all posted on what I can make it do and how well it performs. So far, so good.