Well, we're not hobbits but we're back—having returned late yesterday afternoon, a whole week later than we thought we would, but we just didn't get as much done out in Chicago as we had to in the four weeks we'd allowed. The trip was hot, but dry; we saw no rain all the way across a route we now would know blindfolded. The weather broke a little by the time we got to Ogallala, and so we decided to take a day to recuperate on the clean sand shores of Lake McConaughy. It was a little hotter than I'd like, but the water in the shallows of the south shore was 83°, and even out up to my neck my little Kodak photography thermometer showed 74° down off my right hip.
We started out on the north shore, but the flies were out in force, and after less than an hour we packed the puppies and the chairs back into the car and drove around to the south shore. We stayed there most of the rest of the day. I flew my supposedly cranky parafoil kite, but in the strong breeze off the lake it performed flawlessly, almost skyhook-style, sitting stock still at 200' while pulling my 80-pound test line so hard the line was humming loud enough to hear above the racket from the ubiquitous jet skis. Carol and I swam while QBit and Aero watched, distressed, from the shore. They were willing to frolic in the water if we frolicked with them, but when we went out to deeper water for some simple swimming, they sat on the sand, dodged waves, and whimpered.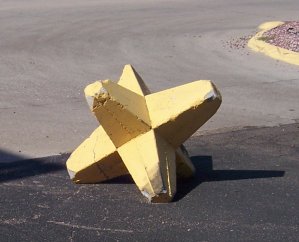 While filling up at the local Shell station for the last stretch home, I spotted the item at left used as a traffic barrier. It was about waist high. I've seen these before, mostly larger and piled up on shorelines as breakwaters, but I've never been able to determine what they're properly called. They're not exactly caltrops (they have two points too many) but they're clearly related, at least structurally.
There was high overcast our last day on the road, and even though the temps were in the mid-90s, the lack of glare made the driving a great deal easier. We got back just in time to dinner with Laurraine Tutihasi and her husband Mike Weasner, who were on their way to Worldcon in Denver from Tucson. We knew Laurraine from our Rochester NY days 25+ years ago, and Mike is the Web's leading authority on Meade ETX telescopes.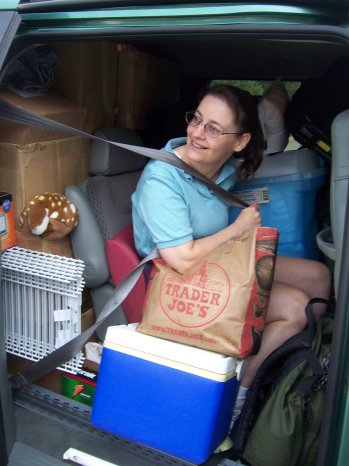 About an hour after parting with Laurraine and Mike, a carload of friends also on their way to Worldcon arrived, this time from Chicago, to spend the night and then head up to set up Steve Salaba's huckster table early this morning. Now, I'm a black belt car packer, but I have met my match, and then some: There wasn't a wasted cubic centimeter in that minivan. There was just enough room in the back seat for one person, blocked in on all sides by coolers and shelves and boxes of plush puppets and stuffed animals. (Note the "Bambi butt" that worked its way out of an overstuffed box toward the left.) It's not how I would have chosen to travel to Worldcon, but Steve, Bonnie (shown), and Eloise are all Worldcon pros from way back, and rotated positions in the vehicle often enough so the person in back didn't get suicidal.
We were away from Colorado Springs during the worst heat spell in several years, and when we got in the front door the temperature was 85 degrees, and the air rich with plasticisers and solvents still being driven from the woodwork. It was hot for awhile while we cranked open every window to get some less toxic air through the place, but it had to be done. I'll willingly admit that I'm still exhausted from our trip, but we're recuperating, and one more good night's sleep should do it. Then, probably Thursday morning, we're off to Worldcon ourselves, if not for the whole stretch then at least long enough to see Nancy Kress again (along with numerous other friends we used to see every Worldcon) and get a sense for what the SF convention scene is like these days. We used to go to Worldcon almost every year, but eventually real life intervened. I have a soft spot for Denver Worldcons; at Denvention 2 in 1981 I had two stories on the Hugo ballot. I lost, of course, but wow: What a rush that was!