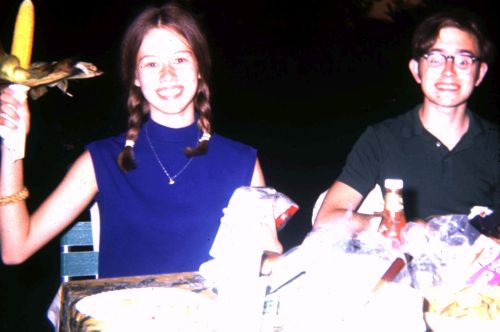 Last Thursday was 45 years since the magical night I met Carol. The earth moved for both of us; we just didn't know what it meant yet. I was walking into walls for weeks thereafter. Carol, being generally more sensible, was determined not to lose her head, but she could tell almost immediately that I was, well, different. How many other boys would set up a home-made 100-pound telescope in her driveway to show her the stars? As it happened, I won her with science, and she won me the same way. I've told the whole story here and won't recap, except to say that my father was right: Love grows out of friendship. There really isn't any other way to do it, unless you're willing to settle (as so many seem to) for mere infatuation.
On July 31, 2019 it'll be 50 years, and that is gonna be a party and a half.
_…_
I jumped into e-readers fairly early, back in January 2007, with the original Sony PRS-500. It put me off e-ink for another seven years. I read a fair number of books with it, but the display only really excelled in direct sunlight. Since I read in a comfy chair under lamps that aren't always as bright as I prefer, the gadget's lack of contrast made me nuts. I soon went back to reading ebooks on IBM's flawed but prescient X41 Tablet PC Convertible, which I used (generally for nothing else) until I bought a Nook Color at the beginning of 2012.
Fast forward to yesterday. (Now there's a book title!) I came back from the mailbox at a dead run, with my new Kindle Paperwhite clutched tight in my right hand. Seven years is a long time in this business. I should have guessed that e-ink would improve. Optimistic as I am, I would have guessed short. The display is fantastic, in part due to seven years' improvement in e-ink technology, and in part to the fact that the Paperwhite's display is illuminated to keep it from depending completely on incident light. As with tablets and smartphones, you can actually read it under the covers in the dark. No flashlight required. (See above, which doesn't do justice to the actual contrast between the two displays.)
Amazon has the ebook thing figured out: Make the products good, cheap, and effortless to buy. I had the Paperwhite out of the box for probably three minutes before I went online (through Wi-Fi; my unit does not have cell network capability) and bought two books in less than thirty seconds: Chuck Ott's new novel The Floor of the World , and the Dover collection Oscar Wilde's Wit and Wisdom . I've been a Nook guy for a couple of years, but that may change. We'll see, as I explore the Paperwhite over the next few weeks.
Why did I buy yet another ebook reader? The Nook Color is actually pretty damned good, and my Transformer Prime is even better, at least for sideloaded books. However, I'm about to begin formatting my back catalog as ebooks, and I need to be able to test Kindle books (especially the newish KF8 format) on a real Kindle.
_…_
ESR recently posted a blog entry that won't make him many friends in conventional SF publishing, but he's on to something: We may be overstating the influence of tribal politics in the current SF culture wars. There is a huge difference between saying that characterization and literary writing are valuable, and insisting with rolled-back eyes that they're all that matter. You know my perspective, at least on what defines SF: It's the ideas. (Note the point that I make in the last comment; to that extent, I agree with ESR and did so a whole year before he made the point. I take my thiotimoline every morning, like all good hard SF writers should.)
Now, I am not taking up the character of Oscar Wilde in The Molten Flesh as a mere shortcut to literary acceptance. I have reasons, and I'm starting to think I need to explain those reasons fairly soon. Don't worry; my intent is to stuff that yarn so full of ideas that they spill out onto the floor when you open it. It's just what I do.
_…_
Finally, if any of you have any impressions or tips on Google Hangouts, I'd like to hear them. I'm about to implement virtual meetings for the Front Range Bichon Frise Club, and Hangouts looks like my best bet so far. (Skype has been off the table for over three years.)