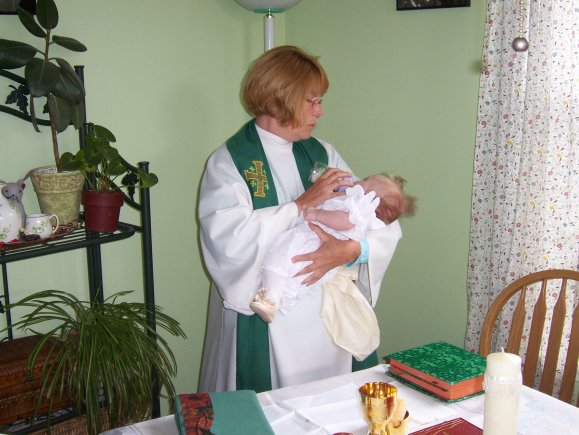 After much planning and preparation, our new niece Juliana Leigh Roper officially joined the Catholic community last night, as all of the immediate family we have left gathered around Bill and Gretchen's huge dining room table for the Mass and baptism. Rev. Mary of the Old Catholic Church presided, as she did back in December 2006 for Julie's older sister Katie Beth. Once again, Gretchen hand-made a christening dress for Julie, and Carol gave Julie the little christening shoes that she herself had worn back at her own baptism in 1953. Again as for Katie Beth, Carol and I promised to keep her on the path as best we can. Godparents don't have to be theologians; what they have to be are good examples and good cheering sections. Carol and I had excellent godparents, and the example was not wasted on us. And yes, words are my thing and I am going to attempt a simple catechism for small children, but we're a couple of years off on that yet. (Which doesn't absolve me from starting to take notes right away. Kids grow up fast.) Theology for ten-year-olds can start very simply, and I will begin with what I learned from Juliana's namesake: Lady Julian of Norwich, who taught that God is infinitely loving and forgiving, and that all manner of thing would ultimately be made well in God's own time. Sooner or later, children must also learn that that there is death and suffering and injustice, but those lessons must be learned from a platform of solid belief in the goodness of creation and God's ultimate victory over all evil and suffering.
The goodness of that creation and God's affection for his creatures was the subject of Mary's short homily from the head of the dining room table. Partway through, Julie began to fuss a little, in the time-honored tradition of infants making a ruckus in church. Without missing a beat, Mary scooped little Julie up in her arms and calmed her down as only a mother (and grandmother) can, continuing to preach her sermon with a baby on her shoulder. (This is something you don't generally see in Catholic churches.) Julie soon returned to sleep, and barely stirred when Mary took the seashell and poured the (warm) blessed water over her forehead, baptising her in the name of the Father, and of the Son, and of the Holy Spirit.
Afterward there was time for good talk, good wine (we had a Frey organic zinfandel and a Bartenura moscato) and Bill's superb grilling skills, with fresh Polish sausage and hamburgers, Hawaiian salad, baked beans, and various small sides. QBit and Aero ran around in circles in the back yard while Katie watched, laughing with delight, and even though the evening was muggy and drippy, Carol and I called it a complete and unvarnished success. Come 9:30 we packed up the puppies and headed for the door, but Katie cried and kept reaching for Carol, who had read her One Fish, Two Fish, Red Fish, Blue Fish several times. Earlier, she had been brushing what's left of my hair with her new hairbrush. She is beginning to learn about godparents and their uses, heh.
After a pretty grim ten years or so on the family front, family is happy and growing again. For many years Gretchen and I thought that our part of the Duntemann line ended with us, but God sometimes answers prayers, and midevening, when our two little prayers sat together in the big chair for pictures, somehow we knew that All Manner of Thing will be well—in fact, as far as we're concerned, we're most of the way there right now.